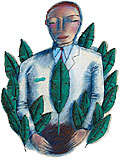 savvyHEALTH is a San Francisco-based Internet eHealth startup. The company was founded by Bryan Chan, M.D., and Larry Chu, M.Sc., M.D., physicians with computer science and engineering backgrounds from Stanford University, both of whom trained at the Stanford University School of Medicine.
The company's proprietary software and content products are developed and tested by a team of physicians who have trained at Stanford, Johns Hopkins, Yale and UCSF.
savvyHEALTH has also recruited a talented, energetic, industry-leading content team which includes journalists from the Boston Herald, ABC news, iVillage.com, St. Martin's Press and the former health editor of About.com
Together, we are working toward creating industry-leading solutions to power the new eHealth economy.