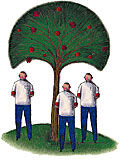 Savvyhealth is developing relationships with a variety of partners, from medical device manufacturers to health care organizations, in order to deliver member-focused solutions for self-care management of wellness and chronic disease states.
Healthcare Organizations: Work with Savvyhealth to provide custom-branded self-care solutions for your members. Lower costs and improve care delivery with Savvyhealth Achieve technology.
Clinical Trials: Work with Savvyhealth to participate in studies of the long-term ROI and efficacy of our self-care technology. We are currently in discussions with several large health care organizations and academic medical centers.
Technology Vendors: Bundle the Savvyhealth Achieve system with your software to provide your customers with a customer-focused self-care platform that is flexible and easy to use.
ASPs: Allow Savvyhealth to extend your ASP product offerings by integrating our self-care platform within your service. Solutions can be co-branded or white-labelled.
Contact us for more information: bizdev@savvyhealth.com