Headlines: Today in Health
A Different Face of Eating Disorders: Diabulimia
By Naomi Mendelsohn


---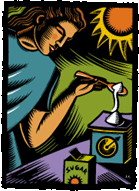 ---
"You don't have to vomit. You don't have to purge. You don't have to use laxatives. You just have to let your sugar stay high."
---


As if being a teenage girl isn't hard enough, with its unending pressures to fit in and the endless questions about puberty — from boys and sexuality to menstruation and "womanhood." Throw on top of that a chronic disease, one without a cure, and what you've got is the daily life of teenage girls with type 1, or juvenile onset, diabetes.
"Adolescence is a lousy disease," says Paula Yutzy, a diabetes educator at the Diabetes Center of Mercy Medical Center. "And diabetes just makes it worse."
Type 1 diabetes is a relatively common illness among children, affecting one out of every 600 kids. And, like every disease, diabetes has a whole host of issues that accompany it, especially during adolescence.
"One of the major problems with girls is eating disorders," explains Yutzy. "Everyone wants to be as skinny as models." For teens with diabetes, however, this weight issue has a name all its own: diabulimia.
A dangerous disorder that can cause life-altering complications, diabulimia is a specific eating disorder that only affects people with type 1 diabetes.
"When your blood sugar is high, you lose weight," explains Yutzy. "One way to do this is to skip injections. Some girls learn pretty quickly that if they want to drop a few pounds, they just need to skip a few doses of insulin."
Don't be shocked if it sounds dangerously easy, it is.
"You don't have to vomit. You don't have to purge. You don't have to use laxatives," says Stuart Brink, M.D, Senior Endocrinologist at New England Diabetes and Endocrinology Center. "You just have to let your sugar stay high."
Here's what happens: people with diabetes need insulin to process food and bring it to the body's cells for energy. If there's no insulin in your blood, your body can't use the food for energy and you lose a majority of the calories of what you're eating.
"This can make you very sick and can even be life threatening," says Yutzy. "They're playing Russian Roulette."
Skipping insulin injections is a sign of poor glucose control and a portent for bad things in the future. Some long-term complications include blindness, kidney disease, renal failure and impotence.
But the truth of the matter is, it's not only the future that one needs to worry about. In the short run, diabulimia will cause even more complications.
"In the short term, your sugars are high, you're peeing more, drinking more and there's unexplained weight loss," explains Dr. Brink. "If you do it long enough you go into diabetic ketoacidosis. And then you'll get limited joint mobility. In its extreme forms you get liver enlargement and a lack of puberty development."
Playing with fire: who's doing it
Unfortunately, there are plenty of people taking chances with their health and, potentially, their lives.
"We know that diabulimia is common," says Dr. Brink. "At least in the 10-20 percent range. Some people cite it as high as 30 percent."
And while girls are more prone to eating disorders than boys, Dr. Brink cites the ratio as two to one, some teenage boys have an eating disorder all their own.
"I had one patient who didn't skip insulin, instead, he exercised excessively."
Because diabetics need to keep tight control of their diets, exercise habits and insulin intake, an abnormally large increase in activity might have the same affect as skipping insulin.
Of course, teens with diabetes fall prey to the usual pressures in our society. Magazines, movies and television promote the idea that beauty only comes in a size six.
However, in addition to the "thin is in" message, diabetes management requires patients to focus compulsively on food. Many in the medical community believe this could lead to an unhealthy relationship with food.
"Because diabetes focuses so much on food, it tends to create, to some extent, eating disorders," says Yutzy. "Every time you go to the doctor you talk about food. You focus on food all the time."
Teens with diabetes then face a very serious catch-22. Their diabetes is allowing them to have this eating disorder, and the eating disorder is sending their diabetes out of control. Both health issues have to be addressed, however, before either is treated.
"You can't fix the diabetes till you fix the eating disorder," says Yutzy.
Because many teens are in charge of their own diabetes care, it can be difficult to spot the warning signs.
"If you build a relationship with teenagers and you ask them how they're doing, they'll say fine," says Dr. Brink. "If you ask them how often they miss shots, they'll say they don't. They don't want to be yelled at."
Dr. Brink suggests an off-the cuff approach.
"If you ask in a different manner,'Gee, in the last week, you should have taken X number of shots, how many did you miss?' What you're doing is psychological. It's subtle."
This approach seems to have good results with teens wary of being chastised.
"Frequently, kids who are omitting the most insulin are scared about what they're doing," explains Dr. Brink. "So, there's not too much resistance to that."
The most important thing is to inform the teens, in a non-threatening way, about the long and short-term damage caused by skipping insulin.
"Make sure that kids have knowledge, bottom line," says Dr. Brink. "Make sure they know what the options are and that they have choices."
Naomi Mendelsohn is a content editor at savvyHEALTH.com.


Related Article(s)...

Copyright &copy 1999-2023 savvyHEALTH.com. All rights reserved.