Headlines: Today in Health
Cleaning a Path to Asthma
By Jordan Lite


---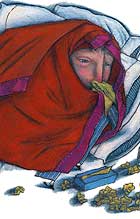 ---
"If you're too busy making antibodies against parasites you don't have too much time to make it against ragweed."
---


Modern technology has brought us sanitary waste disposal, pasteurization, food preservatives, antimicrobial agents and vaccines. We're so clean, so protected against germs, it's a wonder anyone gets sick anymore.
But people are getting sick.
Even in our sparkling-fresh, energy-efficient world, more and more people are developing asthma, allergies and other autoimmune disorders, and some doctors are wondering if all this cleanliness is to blame.
"The worldwide incidence seems to be related to our style of living — the vaccines we use, the housing we live in, sedentary lifestyle — maybe it's a combination of all of them," said Jay Portnoy, M.D., chief of allergy at Children's Mercy Hospital in Kansas City, Mo.
Researchers studying Italian military cadets certainly think that a little dirt may not be so bad after all. Cadets who had been exposed to food-borne and other illness-producing microbes were less frequently found to have asthma or allergies, according to a paper published in the Feb. 12 issue of the British Medical Journal.
The researchers, led by Dr. Paolo Matricardi, suggest that "the features of a westernized lifestyle involved in the allergy and asthma epidemic include a westernized diet with its antimicrobial additives and low microbial content and the dramatic decline in the transmission of orofecal infection."
New research on children of farmers complements Dr. Matricardi's findings. Three different studies of the prevalence of asthma and allergies among farm children published in last month's issue of Clinical and Experimental Allergy suggest that prolonged exposure to farm animals may suppress the cells associated with allergies or otherwise protect against them.
Still sneezing and wheezing
These are confounding theories – especially in light of the fact that people still spend hours vacuuming dust mites, wiping down counters and discouraging pets in homes where there's a genetic predisposition to allergies and asthma.
According to Maria Gutierrez, M.D., of the National Jewish Medical and Research Center in Denver, the British Medical Journal article doesn't explain if there's a true association between exposure to various infectious diseases and an absence of allergies and asthma later on.
"I don't think there's enough data to support that anything we're doing in our lifestyle is increasing asthma and allergies," she said. "It makes us wonder, is there a protective effect, and if there is, what's the mechanism and could we figure out that mechanism so we could prevent allergies or treat them differently?"
Physicians and scientists are trying to figure out why, according to the Centers for Disease Control, there was a 75 percent increase in asthma cases in the United States between 1980 and 1994. An estimated 13.7 million people in the U.S. reported having asthma in 1992 and 1993. And an estimated 50 million Americans are affected by allergies, according to the American Medical Association.
One theory is that our immune systems just don't have enough to do.
The IgE allergy antibody that causes so much misery in the seemingly innocuous environments of the United States exists for a reason: "It seems to be particularly effective in fighting parasites found in Third World countries," Dr. Portnoy said. "If you're too busy making antibodies against parasites you don't have too much time to make it against ragweed."
On the other hand, it may not be the lack of exposure to these horrors that's placing us at risk.
Disorders including diabetes, thyroid and bowel diseases, rheumatoid arthritis and lupus all are more common today than they were before the eradication of polio through a vaccine, said Lori Laffel, M.D., chief of pediatrics at the Joslin Diabetes Center. The use of immune-enhancing substances called adjuvants in the engineering of vaccines may have something to do with this, Dr. Portnoy said.
Alum, a type of adjuvant found in vaccines, boosts a person's immune response to the disease against which they're being vaccinated, Dr. Portnoy said. "But," he said, "it also seems to cause people to make more of an allergic response and promotes asthma.
"It's not to say people shouldn't get these vaccines...the infectious diseases they prevent are far worse than the diseases they possibly cause," Dr. Portnoy said. But vaccines may create "a kind of immune response that may not be best."
Clinical trials are underway to determine whether different adjuvants would reduce the likelihood of developing asthma and allergies, Dr. Portnoy said. Dr. Matricardi and his colleagues go a step farther in their paper: "It is not inconceivable that we may soon use certain microbes or their molecules to prevent [allergies] without causing infectious disease."
Dr. Gutierrez just hopes for more research.
"I think the jury's still out on exactly what's going on," she said. "To maintain a clean environment is really important. Until there's more data... continue the cleaning."


Related Article(s)...

Copyright &copy 2000-2023 savvyHEALTH.com. All rights reserved.