Headlines: Today in Health
Achey-Breaky Heart: Estrogen Overrated for Heart Disease
By Naomi Mendelsohn


---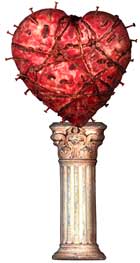 ---
I have two daughters and two granddaughters. I was hoping that maybe I could find something that would help them in the future and other women.
---


Among the many health issues that plague women as they get older, heart disease was often thought to be the most manageable. For years, doctors thought that estrogen was a secret weapon against worsening heart conditions, and thousands of women were quick to agree.
When 58-year-old Eloise Crissman found out about the hormone replacement therapy (HRT) study taking place at Wake Forest University Baptist Medical Center, she signed up immediately.
"I had heard that estrogen was good for the heart, and I wanted to try it," says Crissman. "It was written up in the paper and I thought that it suited me. So I called up, qualified and went to the program."
A common treatment for post-menopausal women, HRT is largely beneficial in staving off hot flashes, vaginal dryness, mood swings and other side effects related to menopause.
But for women with cardiovascular disease, HRT is something of a miracle cure. Based on the idea that estrogen helps the heart by lowering "bad" cholesterol or LDL while raising "good" cholesterol or HDL, many doctors prescribed HRT routinely assuming that it would translate into fewer cases of heart disease.
And Crissman was the perfect candidate for the Wake Forest study. Having suffered from rheumatic fever as a girl, Crissman's heart was permanently scarred. As an adult, Crissman had further cardiac troubles; she had to undergo angioplasty to clear some blocked arteries.
"I have two daughters and two grand-daughters," says Crissman. "I was hoping that maybe I could find something that would help them in the future and other women."
Be still my beating heart
Physicians and patients nationwide had high hopes for treating heart disease with HRT. That is until two weeks ago ,when David Herrington, M.D., associate professor of medicine at Wake Forest University, released the findings of this study at the annual meeting of the American College of Cardiology in Anaheim(CA).
"We failed to find evidence of benefit from hormone replacement therapy," says Dr. Herrington. "We found that treatment with estrogen by itself, or estrogen plus progestin, did not slow the progression of heart disease in women who already had established narrowings in the arteries of the heart."
This was more bad news for physicians who were hoping for a victory. Dr. Herrington's study, which randomly assigned one of two hormone therapies — Premarin, an estrogen supplement, or Prempro, estrogen combined with progestin — or a placebo to 309 women with heart disease, was not the first of its kind. In 1998 the landmark Heart and Estrogen-progestin Replacement Study, HERS, first shocked doctors when it revealed that women with heart disease who were treated with hormones for four years did not have a lower risk for heart attacks.
So, what exactly, does this mean for Eloise Crissman and others who suffer from heart disease. Well, according to Dr. Herrington it means that women and physicians should rely on treatments already proven to help women with heart disease.
"The primary implication for women with heart disease is that they should rely on those forms of therapy that are proven to lower their risk for heart attacks," says Dr. Herrington.
Some of these treatments include lipid-lowering therapy, aspirin and beta-blockers. And, according to Dr. Herrington, there is more research underway. No one knows yet if and what the benefits of HRT are on younger women and women without heart disease.
"There are still reasons to be hopeful," says Dr. Herrington. "We know it has beneficial affects for cholesterol and other risk factors. It may be more helpful in preventing heart disease than it is in slowing the progression once it's begun."
Other physicians believe that hormones in conjunction with statins — cholesterol lowering drugs — may benefit women's hearts more than statins alone. Plus, Dr. Herrington says, there is no evidence that hormone replacement therapy does any harm.
"It is an important point that if woman are using HRT, they are using it for things that are proven to be benefited by estrogen."
And Crissman is quick to agree.
"I'm still taking estrogen," she explains. "It may not work, but I think it does. I guess that's where mind over heart matters."
Naomi Mendelsohn is a content editor at savvyHEALTH.com.

Copyright &copy 2000-2023 savvyHEALTH.com. All rights reserved.