Stage
Stories from the Infirmary: Tales of Illness and Survival
By Jessica DuLong


---
"Damaris doesn't want to be defined by her illness, but she is. It's hard not to be."
---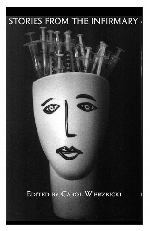 ---


"I can tell you that when I get overheated I go blind," explains author Kristan Ryan. "I can tell you that 100 times and you wouldn't understand it. But if I can show you ... A fictional character gives enough distance that people can understand."
Ryan, who has multiple sclerosis (MS), recognizes the power in telling stories. That is why she and a group of eight friends came together to share two things they had in common: writing and chronic illness.
Together they published Stories from the Infirmary, a collection of fiction, poetry and personal essays that reflect their experiences having, or having cared for others with, chronic illness.
"We were sick of being sick," explains editor Carol Wierzbicki. "We wrote this book initially to express our anger and other feelings about dealing with circumstances beyond our control."
Only later did they realize how their stories could create change.
Urge to publish and purge
As Ryan and Wierzbicki tell it, the book arose from several needs that meshed at once.
First, the contributors were writers. They wanted to see their work in print. They published the book themselves in just nine months, spurred on by a sense of urgency.
These writers couldn't wait for a traditional publisher to sign the book, then publish it two or three years later.
"Some of us didn't know how much time we had," Wierzbicki explains.
In fact, one of the authors, John Penn, Wierzbicki's boyfriend, who had always pushed the rest of the group to stay on deadline, died of AIDS and cancer just months after the collection was published.
But beyond getting published, the contributors wanted to illuminate the complex realities of illness — more than what Wierzbicki calls, "the usual saintly resignation of patients one sees portrayed in hospital shows."
Stories from the Infirmary reveals the full spectrum of emotions, from grief and anger to impatience, disbelief, frustration and denial.
In one piece, an excerpt from Rice Dreams, Ryan's novel in progress, the main character scoffs at another woman's gratefulness to God for giving her MS.
Ryan writes, "Damaris sure as shit will never be thanking God for MS ... no matter how much falling on her face enlightens her." (10)
In this passage, Damaris' bitterness is clear. Yet, at other moments, she is left vulnerable by her disease. Ryan writes, "Damaris doesn't want to be defined by her illness, but she is. It's hard not to be." (31)
For the reader, the gift is the opportunity to live inside the character's head at both moments — in defiance and defenselessness.
Even if the book's subject matter is extraordinarily weighty, the gravity of illness is punctuated by moments of clarity and wit.
"Unexpected humor erupts, like flashes of sun from behind a passing cloud," explains Wierzbicki.
One example is found in Hortensia Anderson's poem, "Irradiation X." Anderson, on dialysis since 1981, writes: "Like a bad lover/death keeps coming/while I don't — /I beg off — /pleading a headache."
For Ryan, the "dark, sick sense of humor" that many of the contributors share has been a source for survival.
There's a power in it, she explains. And the reader feels it, too. Because of its honest storytelling, this book can create change.
Recently, several Stories from the Infirmary authors hosted a reading for medical residents at Lenox Hill Hospital in New York City. And, by all accounts, the reading was a success.
Zeev E. Neuwirth, M.D., general internist and medical educator at the hospital, explained in a letter that the reading "left an indelible impression upon our young doctors in training."
The opportunity to hear from the patient perspective, Dr. Neuwirth wrote, will "lead our residents to act with more empathy and compassion toward their own patients."
These are encouraging words for Wierzbicki who is working on setting up more readings in hospitals, medical schools, social work schools and libraries.
Since its conception, the book's greater purpose has grown. Spiraling outward from the need to purge deep, raw places of pain, the book becomes a means for opening up dialogue with medical professionals. It will, as one reviewer said, help "bridge the gap between ignorance and understanding."
For more information contact Carol Wierzbicki
Jessica DuLong is a managing editor at savvyHEALTH.com.


Related Article(s)...

Copyright &copy 2000-2023 savvyHEALTH.com. All rights reserved.