Parenting: Growing in Good Health
The Kindest Cut: Circumcision Debate Rages
By Jordan Lite


---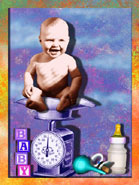 ---
"I'd never heard a scream like that come out of the mouth of a baby. Does this little boy have a right to his own body or doesn't he?"
---


When the American Academy of Pediatrics (AAP) announced last year that circumcision was unnecessary, many parents who took this procedure for granted suddenly started to think twice.
"I have heard good and bad things about it," writes a concerned woman on one of the web's many parenting discussion boards. " I am worried that when the time comes to make that decision I will not know what to do."
This seems to be a common feeling among parents. But, according to Jack Swanson, M.D., a member of the 1999 AAP task force on circumcision, whatever choice she makes, her son will see other boys who look like him.
A unique history in the United States
A long-standing tradition among Jews and Muslims, circumcision was widely adopted in the United States in the late 1800s at the urging of proponents who mistakenly believed it would discourage masturbation. More than 90 percent of boys born in the United States were circumcised in the 1960s, but according to the National Center for Health Statistics, the most recent figure is just 63 percent.
And this shift in statistics has accompanied a shift in medical opinion. In 1971,1975 and 1985, the AAP determined that the benefits were not significant enough to warrant making circumcision routine.
But in 1989 the tide again shifted when the AAP said that circumcision offered protection against urinary tract infections and sexually transmitted diseases. Studies also suggest that circumcision offers protection against penile cancer, a rare disorder generally occurring later in life.
Just ten years later, in 1999, the academy said that while the benefits of circumcision are not great enough to warrant recommending it to everyone, those who opt to circumcise their boys should make sure pain medication is used. This signaled a further break from earlier beliefs that babies only felt pain for a short time and that it had no long-term consequences.
Studies published in The Lancet and the Journal of the American Medical Association have since shown that circumcised boys may tolerate pain less well than uncircumcised boys later on, and that infants experience unusual stress when no anesthesia is used during circumcision.
New policy produces myriad opinions
"I think more parents are asking about it than before," Dr. Swanson says. "Before, parents just assumed their child should have it and not ask about it ... parents are going to start thinking about the decision more than they used to. I think that's appropriate that they do, that they get the correct information to make a decision."
But others take a less moderate stance on the issue.
Edgar J. Schoen, M.D., who led AAP members in developing the group's 1989 policy statement, criticizes its latest position in the March issue of the journal Pediatrics.
"There are clear, clinical reasons to recommend circumcision for infant boys," Dr. Schoen writes. "Urinary tract infections in the first year of life are far more common in uncircumcised boys than in circumcised infants, and multiple studies have shown HIV infection and penile cancer occur more often in uncircumcised men."

He goes on to cite a study suggesting that the risk of invasive penile cancer for uncircumcised men is 22 times that of their circumcised counterparts.
On the other end of the spectrum are those who want circumcision of children stopped altogether.
Marilyn Milos founded the California-based National Organization of Circumcision Information Resource Centers (NOCIRC) in 1985 after witnessing a circumcision during her training as a nurse.
"I'd never heard a scream like that come out of the mouth of a baby," she said. "Does this little boy have a right to his own body or doesn't he? If 85 percent of males in the world have the penis they were born with, what's wrong with the education American doctors are giving us?"
The foreskin not only offers protection against infection, Milos says, but contains thousands of sensitive nerve endings that enhance sex for men. People who perform circumcisions are "chopping off the best part of boy's bodies," she says.
"Why are we doing this to boys?" Milos asks. "Circumcised doctors don't have a clue. They don't know what they're missing."
Making a decision amidst the din
While some new statistics seem to support the AAP's position, others only add to the confusion.
An estimated 1 in 1,000 circumcised boys will get a urinary tract infection in their first year of life, compared with 1 in 100 uncircumcised boys. But the overall risk of uncircumcised boys getting a UTI is at most 1 percent, the AAP says.
A study by researchers at the University of Washington Child Health Institute and published in the January issue of Pediatrics also found that only six urinary tract infections are prevented for every complication from circumcision.
But in his March editorial in Pediatrics, Dr. Schoen says he studied 14,893 boys born in 1996 and found that the uncircumcised ones were 11 times more likely to develop UTIs and 18 times more likely to be hospitalized with an infection than boys who were circumcised.

As for penile cancer, the University of Washington study found that for every two complications from circumcision, only one case of penile cancer is prevented. That added risk, the University of Washington researchers said, is insignificant.
"Some parents may feel they don't want to take any chances of a urinary tract infection in their child. Others may feel a low risk is not enough to have their child circumcised," Dr. Swanson says. "They need to know the correct numbers so they can judge accurately."
Copyright &copy 2000-2023 savvyHEALTH.com. All rights reserved.