Spirit: Remembering What Matters
When Diabetes Packs the House
By Ngoc Nguyen


---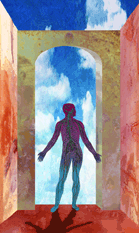 ---
If illness is about pathogenic progression, healing is about a personal one. The individual progresses to a greater understanding of him or herself. The path to this newfound knowledge begins by giving expression to the full spectrum of feelings.
---


"Growing up with a sister who was always sick, I decided I wasn't going to be a victim," says Sue Gaetzman. But if she wanted to play the victim, no one could really blame her.
Over a period of less than two years, Gaetzman lost her husband to kidney cancer, her sister to "indescribable complications of diabetes," and her father to Lou Gehrig's disease. And when her thoughts were not wrapped in death, she fought her own losing battle with diabetes.
While suffering so many losses so quickly could easily have stunned her into silence, Gaetzman, instead, turned to poetry. The result was Blood Sugar, a collection of humorous and haunting poems centered around the deaths of her family members, which was then adapted for the stage.
In the production, the Los Angeles-based actor turned poet delivers an intimate, 90-minute monologue based entirely on that traumatic eighteen month period leading up to her life saving kidney-pancreas transplant.
Gaetzman is not the first to connect performance and the process of healing. In the past year, plays about individuals coping or overcoming illness have been taking center stage. Take Margaret Edson's Pulitzer Prize-winning Wit, about an imperious professor who succumbs to ovarian cancer or, the Multicultural AIDS/HIV Peer Program (MAPP), a Berkeley, Calif. theater group that is taking to the stage to teach young adults about HIV/AIDS.
Like her fellow actors, when Gaetzman takes to the stage, she's tapping into a restorative power that is helping her to cope and heal from the aftermath of illness.
Is there a bard in the house?
Aside from the healing process, what Gaetzman appreciates about the stage is that it is ripe with metaphor. Sure, we've all heard that life is a stage, but is illness a stage too? And how did taking the podium help her heal?
On the simplest level, the play was a vehicle for expression.
"You go through all these stages when you're sick — you're angry, you're sad, you're depressed," says Gaetzman. "All of these feelings are expressed in the show."
If illness is about pathogenic progression, healing is about a personal one. The individual progresses to a greater understanding of himself or herself. The path to this newfound knowledge begins by giving expression to the full spectrum of feelings — pain, loss, grief, anger, hope, fear and joy.
"You come out stronger for it," says Gaetzman. "It empowers you to talk about it."
For Gaetzman, finding a voice meant taking control.
Illness, often times, leaves little room for choices — tumors progress, cancers overtake, viruses invade. The ability to re-enact confers perspective and control that one may not have had.
By re-enacting the past events that have sent her life into upheaval, Gaetzman has the license to relive it on her own terms. Sure, relive the pain, but also say the things she never could say or the things she wishes she had said. No longer held captive by time, she can slow down, fast forward, suspend. Through poetry and performance, she's able to make each lost loved one eternal — hold on forever, and then let go.
To sleep, perchance to dream
Where performance and illness are concerned, the "rub" is the chance for transformation.
When Gaetzman, a shy and unlikely heroine, takes the stage in the first scene, darkness looms. As the play and the person progress, she's illuminated until, in the final act, she comes into her own. She's given expression to her pain and loss, told her story, and has come out stronger for it.
"This is me — it couldn't be any more authentic, says Gaetzman. "No one knows my experience or could tell this story the way I do."
Gaetzman also enters her final stage of illness, during which she must contend with numbness in her lower extremities, loss of a toe, and dialysis to stave off kidney failure.
At this point, Gaetzman needed a miracle to survive. Instead, what she got was a tragedy.
Walking home from school one day, eight-year-old Brent Adams was struck and killed by a car. That same afternoon, Gaetzman , who was first in line for a life saving double transplant, received several phone calls, all with false hopes. The fourth call came at 2 a.m. and instructed her to come to the hospital immediately.
Adams would give Gaetzman the greatest gift — his kidney and pancreas which would restore the life she too might have lost. Gaetzman would not only live, but she would no longer have to endure the life-long regimen of needles and pricks ever-present in the life of a diabetic.
Gaetzman would not soon forget the "giving" stranger who not only saved her life, but also cured her of diabetes. She lives with Adams ever-present in her thoughts. She talks to him everyday, and even keeps a picture of him in her journal which she carries everywhere.
For Brent's mother, it's the same thing when a day goes by she doesn't think about having lost her child. In fact, Toni Adams was compelled to write Gaetzman a letter on the day of Brent's ninth birthday, giving expression to her own pain and loss. Breaking a tradition of silence between recipient and donor families, Adams and Gaetzman have since then corresponded via email, and recently met during the premier of Gaetzman's play.
The women are not only helping each other heal, they are also promoting awareness of organ donation and paving the way for others.
In the final scenes of the play, Gaetzman opens her journal and shares the portrait with the audience, including Brent's mother and family — giving witness to him, her lost loved ones and herself. And for this act of witnessing, Gaetzman needs the audience to bring full circle the process of healing.
Moved by the show, Brent's mother invited Gaetzman to her home.
"She asked me to go to Orange County to show me Brent's things," explains Gatezman. "You want to show everything. You want someone to understand the love you have for this person. It really reaffirms that you loved that person. I get that."
Ngoc Nguyen is a managing editor at savvyHEALTH.com.


Related Article(s)...

Copyright &copy 2000-2023 savvyHEALTH.com. All rights reserved.