Alternatives:Healthcare Outside the Box
Mindful Medicine: Hypertension, African Americans and Meditation
By Deborah Gardiner


---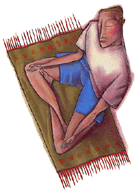 ---
Since 1970, 500 studies have touted that practicing TM for 20 minutes twice a day can reduce hypertension and correct numerous diseases.
---


For some people with hypertension, power naps and costly medications are passé. Across America, the number of hypertension sufferers practicing transcendental meditation (TM), an ancient Indian ritual and stress management technique, is proliferating. For some African Americans, at the greatest risk of hypertension, TM has had unexpectedly good results.
"I began practicing TM six months ago when I found that I had a blockage in my heart," said Alan Mackentire. "My doctor told me to relax more and suggested I try meditation".
For Mackentire, a 62-year old retired mechanic, who works most days as a Church volunteer, the prospect of TM was odd. "I thought he was crazy — I am a very active person. For me to stop twice a day for twenty minutes did not make a lot of sense."
But Mackentire's doctor was on to something. In just six months, the TM and a change of diet helped reduce Mackentire's weight and stress levels dramatically. "I dieted a little, lost weight and started relaxing with the TM. … Now I have no chest pain, nothing. As soon as I started relaxing it started going well".
That TM can reduce stress is not unfeasible. Since 1970, 500 studies have touted that practicing TM for 20 minutes twice a day can reduce hypertension and correct numerous diseases, according to Jon Black, a TM instructor in Palo Alto.
A study in the March issue of the American Heart Association Journal, Stroke, showed that using TM as a means of stress reduction by itself or in conjunction with medication can reduce arteriosclerosis without changes in diet and exercise. The study, which was conducted at the Charles R. Drew University of Medicine and Science in Los Angeles looked at 60 African American men and women with hypertension and found a decrease of 0.098 mm in blood vessel walls, a known risk factor for stroke and heart disease. Participants in the non-TM control group showed an increase of 0.054mm.
This study had important long-term implications for Mackentire and other African Americans.
"The rate of hypertension is now 40 percent higher in blacks than whites," said Dr. Robert Schneider M.D., director of the Center for Natural Medicine and Prevention in Fairfield, Iowa. "One of the suggested reasons is the higher rate of psychological and social stress in African Americans due to perceived isolation, socio-economical strains and other chronic burdens".
Other doctors value the study because they say it helps bring a self-help treatment like TM to African Americans, a group who may traditionally may not have a lot of access to health care.
"Because traditionally, African Americans have higher poverty levels, they do not have the same access to health care as whites," said Dr. Frank Staggers, M.D., director of San Francisco's Haight Ashbury Free Medical Clinic and co-principal investigator of the Charles R. Drew University TM study. "African Americans are therefore less likely than Whites to have regular checks for hypertension."
But how much of a difference does TM really make and do people stick with it? For Linda Logen, a participant in the recent LA study, TM reduced her hypertension completely.
"Before when I was hypertensive, I was depressed and very tired," said Logen, a religious science minister. "TM makes me feel more relaxed, it's just a sense of calm. TM does seem to affect blood flow and heart beats so my energy level has gone up considerably."
For Mackentire, TM is a mind and body-altering experience. "Because TM reduces stress, you see things better. You don't get mad — you don't get upset with people about anything," he said.
What's more, TM is an effortless technique that is easy to learn and maintain. In a comfortable and quiet place, you sit and recite to yourself a 'mantra' or vibratory sound, explains Logen. "TM is something that you can do anywhere, not just in a quiet place — anywhere that you feel you need to be calmed," she said.
A TM instructor for 30 years, Black is completely sold on how life-changing TM can be.
"In TM we learn how to let the mind quiet down. When the mind quiets down, the body quiets down spontaneously. Having a state of rest — much deeper than that person has had in their life — allows the body to dissolve deep rooted and long accumulated stress that is the cause of all health problems, " Black said.
But for some in the medical profession, to say that TM alone can reduce hypertension is unacceptable.
"If the entire world began to hum and chant, we would still have hypertension," said Richard Stein, M.D. an American Heart Association spokesman. "TM may well help with some mild elevation in blood pressure and before committing myself to a lifetime of taking drugs, I would try TM. But for most patients, the proper use of medication will reduce high blood pressure and thus will prevent it escalating into heart disease."
There are also questions about how useful is TM within African American communities. Staggers pointed out that in the medical profession, conventional wisdom has it that African Americans don't use alternative medicine. "A lot of physicians think that African Americans see meditation as a hippie thing," Staggers joked.
Mackentire got the same impression when he tried to rally hypertensive African Americans at his church to try TM. "I have been telling a lot of people about it–taking brochures from the TM center but people were generally resistant. They thought it was against their religion," Mackentire said.
But Staggers thinks that the TM study results should be promoted within African American communities. That African Americans are averse to using alternative medicine is a prevailing myth, he said.
"People who really knew African American history would know that we have always been into alternative types of medicine. If you look at slavery, all they had was roots and alternative medicine. It is part of black culture, that's how you keep your family alive," Staggers said.


Related Article(s)...

Copyright &copy 2000-2023 savvyHEALTH.com. All rights reserved.