Good Eats: Fuel for Better Living
Genetically Modified Mystery Meals, Part 2
By Naomi Mendelsohn


---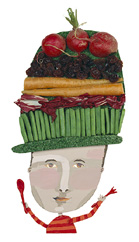 ---
The first few generations of plants will have an impact on individual consumers, but later generations could have some astonishing outcomes such as the end to world hunger and the ability to deliver medicine to poverty stricken nations.
---


When proponents of genetically modified (GM) foods look at corn fields and fish hatcheries, they see the future.
"I support GM foods because they work better than the plants we have that are not genetically modified," says John Morrow, Ph.D., a professor of cell biology at Texas Tech Health Sciences Center in Lubbock.
For Morrow, it's simple; what nature doesn't provide can and should be conjured up in a laboratory. In the future that Morrow and his colleagues envision, tasty corn stalks and ripe red tomatoes are more than mere summertime treats, they are also vehicles for the delivery of extra nutrients, protein and, perhaps, medications and vaccines.
These fantastic, futuristic plots are exactly what scares anti-GM activists worldwide, especially since the first generation of GM foods has not yet been tested, let alone found fit for human consumption. The world-saving potential for these foods is incredible, they agree, but at what cost?
Welcome to ground zero in the debate over genetically modified foods.
One giant step for humankind
For the past decade, Americans have been readily consuming genetically modified food products with or without knowing it. Many in the biotech industry think this is proof enough of their safety.
"If somebody says, 'Can you guarantee that there won't be any detrimental affects, like allergies?'" asks Dr. Morrow. "No, I cannot guarantee that 100 percent. But I can guarantee something else. If we don't do this now, 100 to 200 years from now, the world will be in a terrible situation."
According to the biotech industry, when you weigh possible hazards against future potential, GM foods are worth the risk. They have been imbued with advantages over their low-tech competition including the mundane — better taste and better texture — and the more advantageous: more nutrients, better resilience to pests and various environmental conditions, and more hospitable to growth in hostile environments.
But the cosmetic benefits are just the beginning. The first few generations of plants will have an impact on individual consumers, but later generations could have some astonishing outcomes such as the end to world hunger and the ability to deliver medicine to poverty stricken nations.
"These are the real problems," says Dr. Morrow. "We shouldn't worry about some trivially genetically modified plant. I'm concerned that we're not going to release these first generation crops because we're still concerned about a health hazard. I think we've got to push ahead with first generation crops so we can get a second generation out there which will really make a difference in people's lives."
But, what Morrow and other proponents seem to be forgetting are the millions of people who will not only be affected by the first generation of GM plants, but who could be affected adversely.
Millions of people in the United States — and throughout the world — are allergic to common food sources like peanuts or fish that, if implanted in another food source, may potentially trigger a dangerous and potentially lethal reaction.
"I understand why people are concerned about food allergies," FDA Commissioner Jane E. Henney, M.D. told FDA Consumer magazine. "If one is allergic to a food, it needs to be rigorously avoided. … We don't want to create new allergy problems with food developed from either traditional or biotech means."
Currently, under Federal law and the FDA's biotech food policy, companies must label food products that include a gene from one of the common allergy-causing foods unless they can prove that the added gene doesn't cause allergies. This is good news for 90 percent of allergy sufferers who are sensitive to peanuts, shellfish, cow's milk, wheat, legumes, soybeans and eggs.
What about the other 10 percent, you may ask? At this point there are no laws in place forcing producers to label foods that may have been genetically modified. And this seems to be answer enough.
"It is important to know that bioengineering does not make a food inherently different from conventionally produced food," says Dr. Henney. "And the technology doesn't make the food more likely to cause allergies."
Problematic proteins, perhaps
Though Henney seems certain that GM foods won't cause problems, many other physicians and scientists are not so sure.
"There is some evidence of allergic reactions in healthy adults to GM foods," writes Martha Herbert, M.D., Ph.D, pediatric neurologist at Massachusetts General Hospital in Boston in a statement from the Council for Responsible Genetics. "But we do not know the impact of genetically modified foods on babies, the sick or the elderly. … It is disturbing that these risks have not been assessed."
Dr. Herbert and her colleagues from the Council for Responsible Genetics point to a general lack of information about GM foods.
"Industry and the FDA say there is no reason to test GM foods because they are no different from products of old-fashioned plant breeding," writes Dr. Herbert. "They make this claim without scientific evidence. … It is not known whether genes introduced into new species … make proteins which are exactly the same as the proteins in the organism where they came from. … We don't know because no one has looked. … This is not right."
Dr. Herbert and the Council agree with the British Medical Association's position and state: "It is prudent to assume that GM foods may pose serious risks until definitively proven otherwise."
Aside from the potential affects on humans, anti-GM activists have various other concerns over biotech foods including: the unknown affects of GM foods on the environment and farmers, as well as the potential rise of superpests to counteract pest-resistant plants.
The future of frankenfoods
While government and the biotech industry turn a seemingly blind eye to the potential hazards of GM foods, in an unusual turn of events, corporate America seems to be listening to the debate.
In response to consumer and anti-GM backlash, major food producers including McDonald's, Heinz, Frito-Lay and Gerber have all decided to take steps to remove GM ingredients from several of their product lines.
Newspapers around the world have reported that McDonald's, for example, asked its major potato supplier to grow non-GM potatoes for its French fries while McDonald's Europe has promised to work with its suppliers to find non-GM ingredients.
So, it seems some major corporations are being scared away from the use of GM foods. And it may just take some time before this fear trickles up to the biotech industry.
Though it is impossible to predict whether American and European concerns over GM foods are worth postponing the potential end to world hunger, the debate continues. Only the future can tell whether GM foods will turn out to be the utopia or Frankenstein that people from all camps are envisioning.
Naomi Mendelsohn is a content editor at savvyHEALTH.com.


Related Article(s)...

Copyright &copy 2000-2023 savvyHEALTH.com. All rights reserved.