Headlines: Today in Health
Before the Fall: Preventing Diabetes
By Angela Roberts


---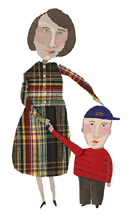 ---
As diabetes has a genetic component, Darlene has worried about passing the disease onto her children.
---


Every morning for the last three years, eight-year-old Amanda Puja has taken an insulin pill with her breakfast. Four times a year, Amanda has her finger pricked five times in a 24-hour period in order to test her blood sugar levels. Then, twice a year, Amanda travels to Ann Arbor, Mich., to endure a glucose tolerance test.
Sounds like the daily life of a person with diabetes. Funny thing is, Amanda doesn't have diabetes, her mother does.
Amanda and hundreds of others across the country, ages three to 45, are participating in Diabetes Prevention Trial (DPT)-1, a study that is trying to determine if low doses of insulin can ward off diabetes in people with family histories of the disease.
Changing the course of history
When Amanda's mother, Darlene Puja, first heard about the study several years ago, she jumped at the chance to have both her children tested for eligibility.
Ever since her early 20's when she was diagnosed with Type 1 diabetes, Darlene has had to endure the strict daily regimen of the disease. Insulin injections, counting carbohydrates and performing regular fingerpricks are all part of her routine. She once spent a week in a hospital intensive care unit, near death, suffering from severe ketoacidosis.
As diabetes has a genetic component, Darlene has worried about passing the disease onto her children. When a parent has Type 1 diabetes, his or her children have a higher chance than the general population of developing it; when one child already has the disease, the risk to siblings is even greater.
Darlene stays up to date on diabetes research and strives to keep her children healthy, but the fear still nags her. "It's always something in the back of your mind — if they drink a lot or pee a lot," explains Darlene, who says that until her diagnosis, there was no family history of diabetes.
When she read about the diabetes prevention study in the American Diabetes Association's Diabetes Forecast, "I said, 'let's go for it.'"
To determine if they were eligible, Amanda and her brother underwent blood tests that looked for islet cell antibodies, found in the majority of people that have Type 1 diabetes. While her brother's test turned out negative, Amanda's was positive. That qualified her for further testing. After a series of genetic, immunologic, and metabolic tests, she was placed in the intermediate risk group.
Amanda and other intermediate-risk individuals take a daily experimental insulin pill or placebo, depending on which group they've been randomly assigned to.
High-risk participants are also divided into two groups. Individuals in the close observation group simply undergo regular testing, but no preventive measures. Those in the comparison group inject themselves with insulin — "two daily shots: one at morning, one at bedtime," explains Jay Skyler, M.D., DPT-1 study chair and a professor of medicine, pediatrics and psychology at the University of Miami School of Medicine.
Skyler and his colleagues are hoping these small, regular doses of insulin will change the participants' biological destiny. In Type 1 diabetes, immune system cells that are supposed to protect the body from foreign substances instead attack the beta cells that make insulin.
Scientists have several theories about how insulin may prevent or slow this process. One idea is that insulin injections may cause the immune system to be less sensitive to — and therefore less likely to destroy — the insulin-producing cells. "We're almost using it (the insulin) as a vaccine," Skyler explains.
If you think that this "vaccine" for diabetes resembles the routine, you are not alone.
According to Mary Kay Justice, R.N., a certified diabetes educator and manager of the Diabetes Center at St. Francis Hospital and Health Centers in suburban Indianapolis, individuals merely trying to avoid Type 1 diabetes would endure some of the same inconveniences as those that actually have the disease.
However, she points out, "They wouldn't have the devastating effects of the complications of diabetes, such as kidney disease, nerve damage, and retinopathy."
And for some people that might be reason enough.
Plus, says Dr. Skyler, "People with diabetes have three to four doses of insulin a day, they measure their blood sugar several times a day, and we give them a (regimen of) strict diet and exercise." Study participants, he says, are all too aware that the preventive measures they're helping to test are less demanding: "Because they have family members with diabetes, they know what the burdens are."
Like many others, Amanda has been enrolled in the study for several years now. But researchers are still trying to fill their quota of more than 800 participants, and finding them is a daunting task.
In addition to the age requirement, prospective study participants must be related to someone with Type 1 diabetes. They must also test positive for the islet cell antibody, something that only about three to six percent of prospects nationwide do. Finally, they must be deemed at medium or high risk after another round of tests.
Because of these qualifiers, researchers are having to test about 15,000 people a year until they reach their quota. Skyler estimates it will take a few more years.
But bright, articulate Amanda, who sees far beyond the scope of the study, isn't questioning if it's worth it.
"It's nice to know you're helping someone," she says. "Because if they find out what prevents it, they can more easily find a cure."
If you'd like to have yourself or a family member tested for study eligibility, log on to www.diabetes.org/ada/dpt-1.asp for more details.
Angela Roberts is an Indiana-based writer specializing in health, environmental, and family issues.


Related Article(s)...

Copyright &copy 2000-2023 savvyHEALTH.com. All rights reserved.