Good Eats: Fuel for Better Living
Eating the Worm: Beneficial Bacteria
By Nina Schuyler


---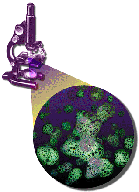 ---
For most of us, the word bacteria conjures up something bad. E.coli comes to mind. So does salmonella, both of which can make you sick or even kill you.
---


Justin Bennett, M.D., a gastroenterologist at the University of Colorado in Denver suffered from painful bouts of ulcerative colitis. He tried exercise, different diets and drugs, but nothing worked. Finally, he dosed himself with intestinal bacteria. His symptoms disappeared. Now, anytime the condition flares up, he repeats the treatment.
"It's not elegant science," he says, "but it works."
Bennett's treatment plan may sound odd but it's really nothing new. For most of us, the word bacteria conjures up something bad. E.coli comes to mind. So does salmonella, both of which can make you sick or even kill you. But brace yourself: healthy people have about three pounds of bacteria in their digestive tract.
The good bacteria in your gut are called probiotics. They inhibit the harmful action of other toxin-producing bacteria, aid digestion and nutrient absorption, and lower cholesterol. But some of the bacteria in your small and large intestines are harmful and the longer you've taken antibiotics, traveled to foreign countries introducing foreign bacteria into your system, or eaten a diet that is high in refined foods and sugar, the more likely you are filled with bad bugs.
When the balance between good and bad bacteria is skewed, you may experience poor health, such as diarrhea, food allergies or other intestinal ailments and vaginal yeast infections. Studies from major universities show that ingesting probiotics can alleviate these problems.
Interest in bacterial cultures began in the 1900s when Nobel prize-winning Russian scientist, Elie Metchnikoff, suggested that the long healthy life of Bulgarian peasants resulted from their consumption of fermented milk products. He posited that intestinal flora can be positively influenced by consuming certain microbes. Metchnikoff's research at the Pasteur Institute in France eventually isolated the Lactobacillus strains that are commonly found in yogurt.
Today the claims of probiotic advocates go further, including the power of the bugs to strengthen the immune system and prevent certain types of cancer. Microbiologist Barry Goldin at Tufts University found that rats developed fewer tumors when fed food with probiotics. Predictably, that finding has led to claims circulating in the media that probiotics may cure cancer.
"People are making broad general statements about the wonders of probiotics on their Web sites," says Gregor Reid, professor of microbiology and immunology at the University of Western Ontario in Canada. "For many of these claims, we have yet to have the research to back it up."
Still, the early research on these health claims is promising and, therefore, drawing interest and more funding. Europe and Japan have long known the beneficial effects of eating good bacteria. Yakult, a fermented milk drink made with a strain of bacteria is very popular in both regions and will soon be introduced in the United States. Yogurt can also increase the number of good bacteria because it is filled with microbes such as lactobacillus acidophilus and L. bulgaricus.
As consumers in the U.S. become more health savvy, companies have introduced new improved probiotic products to the market. In April, Nestle came out with LC1, probiotics in a powered form. Dannon introduced Actimel, a dairy based probiotic supplement beverage to the Colorado market last year, and CAG Functional Foods introduced Culturelle, a new dietary supplement.
Each of these products contains different bacteria cultures. Now the race is on to find why and how these good bugs work and which ones are the most effective.
In large part, the success of probiotics is contingent on work being done by people such as Todd Klaenhammer, professor at the University of North Carolina State University and director of the Southeast Dairy Foods Research Center. Klaenhammer is mapping the genetic components of different strains of probiotics. "The genome of these cultures will show what they can do and how," he says.
Klaenhammer and others aren't worried about the safety of the older strains of good bugs. There is a long history of safe consumption of strains found in fermented dairy products, like yogurt. But, no one knows the full range of effects in the new strains — both good and potentially harmful. Researchers recommend ingesting strains that have been studied; and only take them when you are likely to experience intestinal troubles
Among the most promising new strains is the Latobacillus GG, discovered by Goldin and Dr. Sherwood Gorbach at Tufts University School of Medicine. L-GG has been shown to treat traveler's diarrhea and intestinal problems caused by antibiotics. It also seems to treat rotavirus, one of the most common causes of diarrhea in children in the world. Currently, L-GG is being marketed under the brand name, Culturelle.
Another study out of John Hopkins found the Bb-12 strain of Bifdobacterium stimulates the immune system. Infants who are breastfed have large amounts of this bacteria in their intestine and are less likely to suffer intestinal problems. It has been shown in studies to cure diarrhea in children of all ages.
Reid is taking the research a step further and his preliminary findings show that probiotics can prevent urinary tract infections, blood infections and vaginal yeast infections. In one study involving 100 women who took his probiotic cocktail, none experienced yeast infections.
Reid has been studying probiotics for 20 years, mostly on his own dime. "In the early days, we were laughed at," he says. Just the other day, after he presented his findings at the National Institute of Health, an NIH employee approached him and said he'd fund his research if he was an American. "Let me tell you," says Reid. "I'm thinking about it."
Nina Schuyler is a San Francisco-based writer. She can be reached at Schuylerninasky@aol.com.


Related Article(s)...

Copyright &copy 2000-2023 savvyHEALTH.com. All rights reserved.