Good Eats: Fuel for Better Living
Olive Oil: The Next Food Rx?
By L.R. Roniger


---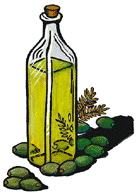 ---
"Some people think olive oil should be a medicine instead of a culinary item."
---


The reputation of olive oil — the Mediterranean staple that now possesses both a health-conscious and gourmet cachet — has been further enriched by a study released earlier this year purporting its blood pressure-reducing qualities.
Performed by researchers at Federico II University Medical School in Naples, Italy, and published in the Archives of Internal Medicine, the study found that a diet with a "slight reduction in saturated fat intake, along with the use of extra-virgin olive oil" reduced blood pressure in hypertension patients.
"Some people think olive oil should be a medicine instead of a culinary item," said Dr. Carlos Ferrario, director of the Hypertension and Vascular Disease Center at Wake Forest University Baptist Medical Center in Winston-Salem, N.C.
During the study, 23 patients with mild to moderate hypertension, who were already using medication to control their blood pressure levels, were divided into two groups. Each group was assigned a diet, which differed only in the type of oil used as the source of added fat.
The first group was placed on a six-month diet including olive oil , a monounsaturated fat, followed by six months on a diet including sunflower oil, a polyunsaturated fat. The second group received the sunflower oil diet first followed by the other one.
On average, blood pressure levels for patients consuming olive oil decreased and they were consequently able to reduce their daily dosage of antihypertensive medication by 48 percent compared to 4 percent while on the other diet. Eight of the 23 study participants completely eliminated their drug regimens during the olive oil portion of the study.
But what might explain olive oil's apparent medicinal effects?
"Its influence on blood pressure might be due to its content of the antioxidant polyphenol," said Dr. L. Aldo Ferrara, the lead researcher of the Italian study and an associate professor at Federico II University Medical School. Some research has suggested that antioxidants favorably affect lipoprotein levels, which has been associated with lower blood pressure values.
Despite such glowing reports on olive oil, he doesn't tell his patients to just start pouring it on.
"I generally advise (hypertension) patients to change their diet first by eating more legumes, vegetables, fish and monounsaturated fatty acid (MUFA)-rich foods, instead of saturated fats," he said.
Examples of MUFA-rich foods include olive oil, canola oil, safflower oil, avocados, and nuts.
Ferrara also offered similar recommendations for everyone else. "I believe that healthful lifestyle changes, including dietary habits, not only help patients with mild to severe arterial hypertension but are beneficial for just about anyone."
And for those with hypertension, Ferrara emphasized the importance of continuing drug therapy under a doctor's supervision. "I believe that in most hypertensive patients, drug treatment is mandatory," but other factors, like olive oil consumption, may also assist in controlling blood pressure levels, he said.
He gave a stern warning against anyone altering his or her medication regimen without the guidance of a physician. "I am, however, afraid that suddenly stopping antihypertensive treatment may induce serious negative effects," said Ferrara.
Despite the promising results of the Ferrara study, some researchers think the case for olive oil hasn't been conclusively proven.
Dr. Ferrario of Wake Forest University Baptist Medical Center cautioned against making assumptions about olive oil because large-scale studies and their effects on hyptertension and lipid levels have not been conducted.
He also expressed some skepticism about just what items from a so-called "Mediterranean diet" or lifestyle might be linked to a lower prevalence of high blood pressure and heart disease.
Residents of Mediterranean countries, such as Spain and Italy, consume more olive oil than their counterparts in the United States, but may also share other beneficial dietary habits, said Ferrario, such as heavier (consumption) of fish oils and vegetables and "a more balanced diet compared to ours."
Regardless of the possible health effects of olive oil, Ferrario recommended that anyone — hypertensive or not — take a holistic approach focusing on preventive behaviors, such as exercise, weight reduction and healthier eating habits.
And regardless of which fats and oils outperform the others in future studies, Ferrara is cheered by the trend he sees of increasing physician acceptance of non-drug treatment for hypertension.
"I am sure that healthful lifestyle changes may help prevent both cardiovascular disease in hypertensive patients and hypertension in the general population, said Ferrara. "I hope that improved knowledge of the usefulness of dietary treatment will prompt doctors and patients to accept non-pharmacological means of blood pressure reduction."


Related Article(s)...

Copyright &copy 2000-2023 savvyHEALTH.com. All rights reserved.