Headlines: Today in Health
Unforeseen Crossroads: HIV and Diabetes
By Marc Sason


---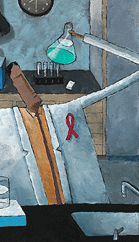 ---
"It's almost like trading in one punishment for another."
---


Geoff * is in his early forties: well-to-do, with a decent home and career in San Francisco. He is also HIV-positive.
With the help of special medications, he has been able to curb his condition for the past three years but, not without certain side effects. While his arms, legs and face grow skinnier by the day, the fat that was once there has congregated in his waist. In recent pictures, he resembles a pear with toothpick arms and legs.
That's not all. These medications most likely also caused his development of diabetes about a year ago.
"It's almost like trading in one punishment for another," he said.
Geoff's body morphism is attributed to the recent discovery of a sub-category of Type 2 diabetes, which has been blamed on the drugs that comprise the popular and effective anti-retroviral drug cocktail. Dr. Eric Renard, of the University of Montpelier in France, announced this discovery at a conference of the European Association for the Study of Diabetes in September.
Anti-retroviral drug therapy has only been available for about five years, and has been hailed as the lifeblood for almost half-a-million people living with HIV, despite its hefty annual price tag in excess of $15,000 per person. It is credited with lowering the AIDS death rate in the United States by 47 percent.
The three drugs in the anti-retroviral drug cocktail are protease inhibitors (PIs) and two nucleoside reverse transcriptase inhibitors (RTIs). PIs and RTIs stop HIV from replicating at various stages, thereby preventing the virus from spreading throughout the body.
Until Renard's discovery, it was believed that PIs alone were responsible for the development of excess abdominal fat and weight loss in arms, legs and faces ultimately leading to the development of diabetes.
However, Renard's study of 102 HIV-positive patients suggested that the interaction of all three drugs in the cocktail, not just one component, causes the excess abdominal fat, as well as interferes with certain proteins that control the body's absorption of blood sugar.
This idea of HIV-induced diabetes is not a new concept. In fact, according to Martin Delaney, who founded the San Francisco-based HIV/AIDS advocacy organization Project Inform, scientists proposed a link between these medications and this subtype of diabetes back in 1996, about a year after PIs were approved by the Food and Drug Administration (FDA).
"It's best at this stage to call [Renard's conclusion about RTIs and this type of diabetes] a theory," Delaney said.
Delaney pointed out that multiple, often conflicting theories concerning the link between diabetes and these medications have been discussed, debated and pursued for years.
"Some relate it to protease inhibitors, some to nucleoside analogue drugs and others point out that we have been seeing this since the beginning of the epidemic, before treatments were available," he said. "Anyone who is on HIV treatment and comes down with diabetes is likely to attribute the diabetes to his or her treatment, but that doesn't make it so."
For example, in June of 1997, the FDA issued a public health advisory about the correlation between PIs and diabetes. The report found that although there had been about 80 incidents, there was no "conclusive evidence establishing a definite causal relationship between protease inhibitor therapy and the incidence of diabetes and hyperglycemia." Due to a lack of substantial research at that time, the advisory emphasized that patients should not discontinue their therapy without consulting their health care professional.
A year-and-a-half later, Leslie Hanna, acting editor of the Bulletin of Experimental Treatments for AIDS (BETA), wrote in the January 1999 edition of the BETA newsletter that, "people with fat distribution taking anti-retroviral therapy may be at a risk for developing diabetes."
Despite the controversy, a majority of experts and advocates agree that Renard's study should be a catalyst for further research.
Jules Levin, executive director of the National AIDS Treatment Advocacy Project pointed out the main reason for further research. If the medications in this cocktail are indeed the cause of these metabolic changes, alternatives need to be found.
Tim Teeter, associate director of the San Francisco AIDS Foundation, noted that changing medications would be the obvious remedy to this problem. "Unfortunately," he said, "there is not yet sufficient information to say definitively which medications are absolutely best to use instead."
One alternative could be to find a single medication that would be as effective as the combination therapy, but without the harsh side effects. However, Delaney said that no known drug, by itself, is sufficient to stop viral reproduction for long. He added that taking only one drug at a time would allow some level of viral reproduction to continue, as well as lead to quicker resistance to the medication.
A more favorable approach would be to find replacement ingredients for the cocktail, rather than single-medication alternatives. For example, one such substitution involves replacing the nucleoside RTIs that have been used in the past with non-nucleoside RTIs. These inhibitors also prevent the virus from multiplying, but do so at a different stage of replication.
According to Teeter, the non-nucleoside RTIs appear to be effective, but less likely to cause fat redistribution and diabetes.
But the perfect medication is useless if it stays in the bottle.
That's why advocates like Teeter are interested in alternative approaches that would help patients adhere to medication regiments. Teeter believes lowered or periodic doses would make treatments more affordable, and reduce the daily number of pills.
People living with both HIV and diabetes often need to take both anti-retroviral and diabetes medications. Geoff, for instance, takes close to two dozen pills each day, every day.
The ultimate goal for advocates such as Delaney of Project Inform is to improve life for patients. And Renard's study is one stepping stone.
"The only thing that can be done is for Renard to present his hypotheses and let the scientific process do its thing," he said. "Others will challenge the data or test it out, and if he's on to something that can be proven, not just theorized, we'll know soon enough."
As for Geoff, he remains unfazed and unimpressed with Renard's discovery. "I'll believe it when I see it," he said, as he stood up to take yet another handful of his medications.
*Geoff asked that his last name be withheld to protect his privacy.
Marc Sason is a content producer at SavvyHEALTH, and can be reached at marc@savvyhealth.com.


Related Article(s)...

Copyright &copy 2000-2023 savvyHEALTH.com. All rights reserved.