Alternatives:Healthcare Outside the Box
Creating Health with Art Therapy
By Maureen Bogues


---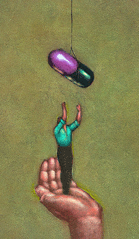 ---
Michael Samuels, M.D., says he would like to see "an artist for every patient, a patient for every artist" on hospital wards.
---


Fifteen years ago, Gianna Volpe was bedridden with herniated disks in her lower back. Doctors prescribed various therapies, none of which worked. Surgery was suggested, but she was concerned about a serious possible side effect: paralysis from the waist down. Frustrated, she stopped all medical intervention, got plenty of rest and began painting and creating collages every day. A year or so later, her back had healed.

"I felt empowered by the satisfaction of doing something creative and productive," she said. "I believe the emotional satisfaction it gave me - translating thought and ideas into form - had a physiological impact on my body. It reduced stress, anxiety and affected the levels of pain."

Creating art as a means of healing the spirit dates back to ancient times, and it is increasingly being used in hospitals, nursing homes and other health care facilities as artists and art therapists help people to cope with the pain, medicinal side effects and depression associated with serious illness.

Volpe now shares, on a daily basis, what she learned from life experiences and art school as artist-in-residence at the University of Pennsylvania Cancer Center - a permanent position she created five years ago.

"When people engage in the art process, it makes life rich and affects how they see themselves," Volpe said. "So much is stripped away when you're in a hospital environment."

Michael Samuels, M.D., says he would like to see "an artist for every patient, a patient for every artist" on hospital wards.

Becoming one's own healer

A program at the University of Florida hospitals, Arts In Medicine (AIM), has brought artists, musicians, actors and dancers into the corridors and hospital rooms. Samuels and Mary Rockwood Lane, R.N., Ph.D., helped found the program eight years ago to make that vision a reality.

Imagine ballet classes in a bone-marrow transplant unit or Bach wafting from the grand piano in the atrium. Watch a play performed by children who are living with cancer or walk down a corridor and see a 63-foot "healing wall" pieced together with 1,800 tiles made by patients. All of this is happening in the Shands hospitals of the University of Florida.

"We don't call it therapy, we call it making art," said Rockwood Lane. "The whole process is [for the patient] to get in touch…with the inner healer. Each person making art is [his or her] own therapist, own healer. That's what the creative process brings to them."

Healing the body as well as the spirit

Being engaged in a creative act - whether it is gardening, painting, sculpting, writing, dancing or playing music - brings about actual physiological changes within the body.

"It [being creative] actually changes brain-wave patterns and drops blood pressure. It is measurable in every cell in the body," Samuels said. It is an accepted fact among neurophysiologists that art, prayer and healing all emanate from the same source in the body, affecting changes within the nervous system that stimulate healing. Stress hormones decrease while endorphins, natural painkillers produced within the body, increase, enhancing the nervous system's ability to fight infections and disease.

Rockwood Lane said that she has seen data from clinical studies showing that creating art can reduce the side effects and anxiety associated with chemotherapy. It has also helped to lower blood pressure, decrease nausea and reduce the amount of pain medication needed.

AIM recently received a $2.5 million grant from the National Institute of Health to measure the quality of life for patients receiving bone-marrow transplants.

"Quality of life is a big issue in healthcare," said Rockwood Lane, especially for cancer patients, because the drugs often have debilitating side effects. "We have to look at how we're affecting people's lives when we give treatment, and now we're beginning to look at how we treat the mind, body and spirit... We're looking at a more holistic approach to care. It's not just the cure that we're after."




Related Article(s)...


Copyright &copy 2000-2023 savvyHEALTH.com. All rights reserved.