Headlines: Today in Health
After the Transplant: Black Market Drugs
By Gordon Young


---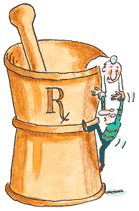 ---
""They shouldn't have to choose between keeping an organ or eating."
---


Dale Ester, a 43-year-old Phoenix resident, received a kidney transplant in 1991. Ester, who is legally blind, gets by on monthly Social Security disability payments. Like other transplant recipients, he struggles to pay for the expensive drugs that he needs to prevent his body from rejecting his new organ.

Immunosuppressant medications can cost anywhere from $10,000 to $30,000 a year and often account for only a portion of a patient's total drug costs. Medicare, the national health-insurance program for the elderly and disabled, will cover the cost of the drugs for three years after a transplant. After that, those who don't have private insurance are on their own.

"There are people out there by the truck loads who need these drugs, but they have no idea how they're going to pay for them," says Ester, who established an underground network to get free drugs to transplant patients. "They need help. They shouldn't have to choose between keeping an organ or eating."

Some become so impoverished that they are eligible for Medicare, which coversthe cost of immunosuppressant drugs. And others risk the loss of their organ -- or death -- by cutting back on their medication or abandoning their drug regimen altogether. Medicare will, however, cover the cost of dialysis should a kidney fail -- a process that can cost up to $75,000 a year.

As the November elections drew near, Congress and the White House battled over the particulars of a spending bill that would dramatically affect the allocation of Medicare funds. Both sides agreed that Medicare should get more funding, but they couldn't agree on how the money should be distributed. While media pundits described the negotiations as a political squabble pitting Democratic President Bill Clinton against Republican members of Congress, the outcome is deadly serious for people like Dale Ester.

The situation would change if the current Medicare funding package is signed into law. Rep. Charles T. Canady, a Florida Republican, has introduced legislation with broad, bi-partisan support that would eliminate the three-year limit on Medicare coverage of immunosuppressant drugs and provide patients with lifetime coverage. The change made its way into the massive overall spending bill, which is now caught in the showdown between the Republican Congress and the President. There is the possibility that the bill could be vetoed and then bogged down in the final months of the Clinton presidency.

"If this bill is vetoed, I'm not sure you'll get another bill," Rep. Collin C. Peterson, a Democrat from Minnesota, told The New York Times in early November. "We'll be a long way into next year before we get more money out to hospitals, nursing homes and home health agencies."

The final congressional session of the Clinton Presidency convenes in early December, and the fate of the Medicare funding bill will be decided.

In the meantime, Ester continues his work in the black market that offers free drugs to financially strapped transplant patients. A nationwide underground network of physicians, nurses, care givers, social workers and former patients redistribute drugs to those in need. Drugs may become available when a transplant recipient dies and relatives donate the remaining medication. Or a patient's drug therapy may change, eliminating the need for the old medications.

Sometimes the needy show up at Ester's door. Other times he gets a call from hospital workers to see if he can "donate" a particular medication. Technically, it is a crime to dispense prescription medicine without a license, but law enforcement agencies and hospital administrations usually look the other way.

Ester is confident the Medicare funding regulations that necessitate the underground network will change soon, but he will continue his work until it does. "There are a lot of transplant recipients working hard, but you have to make an awful lot of money to spend $20,000 every year on drugs to keep you alive," Ester says. "Things need to change."




Copyright &copy 2000-2023 savvyHEALTH.com. All rights reserved.