Achieve Server | Achieve Sage | Achieve Core | Achieve Connect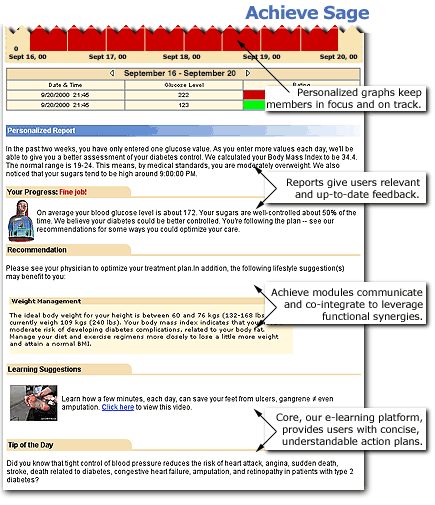 Achieve Sage Technology
Health just got smarter.
Sage is the heart of the Savvyhealth Achieve system. Developed by physicians, nurses, and health care professionals, Sage software analyzes and interprets current and past physiologic user data to provide real-time, patient-specific feedback about actual health status based on up-to-the-minute standard-of-care clinical guidelines.
Sage feedback is matched with content from Achieve Core, our proprietary specialty e-learning platforms and virtual community resources. Sage also monitors compliance, providing customized and relevant information for a broad spectrum of patients.
Modules that talk to each other. Imagine that!
Savvyhealth has developed Sage modules for diabetes and asthma. In the near future, Sage modules for nutrition, hypertension, HIV/AIDS and pregnancy/early childhood development will become available. An important feature engineered into each module is the ability to share information and data between disease/wellness states.
Diabetics will be able to plan, monitor and improve their glucose control through better nutrition. Patients with hypertension and diabetes will be able to receive integrated and personalized self-care plans tailored exclusively for both problems. The possibilities are endless.
To find out more about Savvyhealth products and services, please contact our Business Development staff.